Chemical Powder Batch Mixer>
Model NO.: WZL

Operating type: Cycle Operating

Condition: New

Configuration: Mixer Can Equiped According The Clients′ Requireme

Trademark: SL

Transport Package: Wooden Case or as Required

Specification: CE, ISO 9001

Origin: China

HS Code: 8474390000

Advantages:

The best mixing homogeneity

The shortest mixing time

High mixing efficiency

Out segregation

 

Working principles:

Double shaft paddle mixer is a batch mixer with two counter-rotating shaft that are equipped with ten paddles, they overlap each other following the driven unit.

Blades generate centrifugal force during high speed rotation, spilling the material to the upper part in the barrel, then the material falling down (the vertex of material is in a so-called instant non-gravity state).Driven by the blades, material is mixed back and forth; also sheared and separated by the meshing space between the twin shafts; fast and evenly mixed in the end.

 

Scope of application:

WZL double shaft paddle mixer is widely used in chemical, food and construction line. It can mix powder, granule and fiber material. It promotes a homogeneous mix independent of particle size, density and fluidity of the ingredients and fluidity.

Through design, the double shaft paddle mixer can adapt to all kinds of production line, and cooperate with other types of equipment including the conveying equipment, storage facility, feeding equipment, weights system, packing machine, and screening machinery to complete the automation production requirements,

 

Flexible material selection

Materials can be chosen from carbon steel, manganese steel, stainless steel 304 or 316L, and 321, besides, different material can also be used in combination, material is different between the part contact with the raw material and the parts don't contact with the raw material.

Surface treatment for stainless steel include sandblasting, wiredrawing, polishing, mirror polishing, all can be used in different parts of a mixer.

 

Reliable driven unit

The driven unit, power and speed are varied according to different raw materials. Starting method, and processing, because of the meshing relationship for the inner paddles of the double shaft paddle mixer, the double shaft driven unit is required to be equipped with synchronous ability. The four driven combination launched by Shengli Co. that can meet different requirements are the combination of two synchronous gear box, double output gear box, double synchronous planetary gear box, and the combination of reducer and chain. The combination of SK-series double synchronous gear box is the best configuration for double shaft paddle mixer.

 

High efficiency mixing unit

According to the properties of raw materials, the paddle can be adjusted and designed accordingly, for example adding wear-proof plate, Teflon plate, and saw-toothed paddle.

Double shaft paddle mixer can be also added high speed breaking bar inside the barrel, scattering material following its flow.

 

Excellent discharging unit

Standard valve for the double shaft paddle mixer is twin pneumatic planar flap valves. When close the valve, the planar flaps match the mixing barrel perfectly, this makes no mixing dead zone and better mixing effect.

We can make and design the machinery according to client's requirement.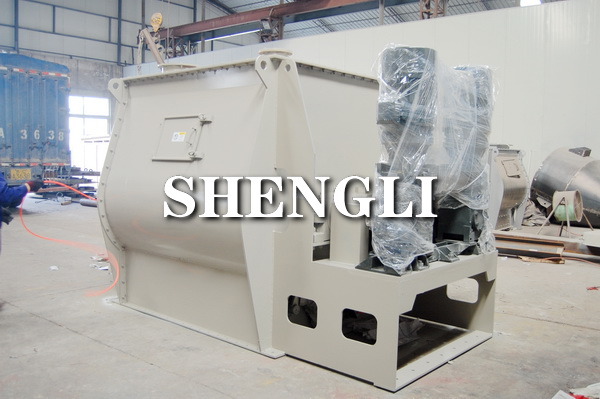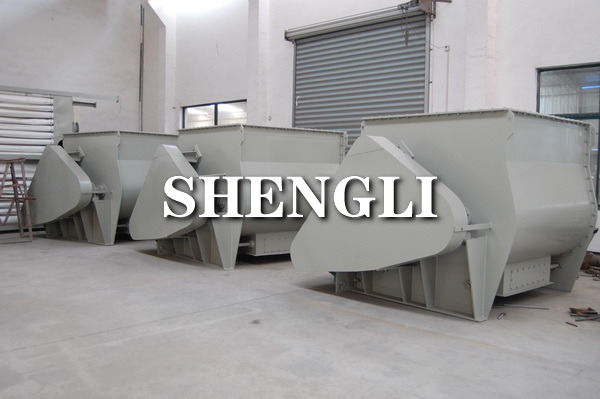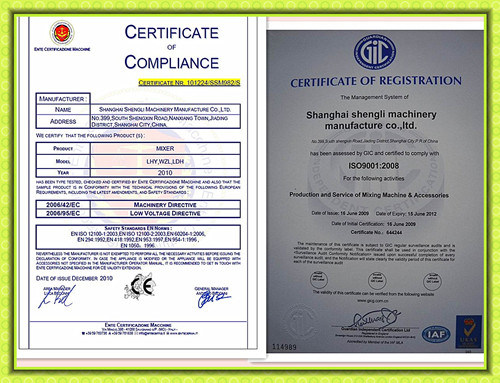 Model
  Power
 Speed
  working capacity/ Batch
        Dimension
  weight
   (kw)
  (rpm)
                  (liter)
             (mm)
    (kg)
  LHY-0.1
      3
    41
                 40-60
    1190×740×770
    330
  LHY-0.3
      4
    41
              120-180
    2300×680×1060
    550
  LHY-0.5
    5.5
    41
              200-300
    2900×780×1240
    900
   LHY-1
    11
    33
              400-600
   3200×1000×1400
   1600
   LHY-2
    15
    33
             800-1200
   3860×1200×1650
   2700
   LHY-3
  18.5
    33
            1200-1800
   4320×1300×1900
   3600
   LHY-4
    22
    27
            1600-2400
   4600×1400×2000
   4200
   LHY-5
    30
    27
            2000-3000
   4850×1500×2020
   5100
   LHY-6
    37
    27
            2400-3600
   5400×1560×2200
   5600
   LHY-8
    45
    22
            3200-4800
   5100×1720×2420
   6500
  LHY-10
    45
    22
            4000-6000
   5610×1750×2360
   7800
  LHY-15
    55
    14
            6000-9000
   5820×2000×2900
  11000
  LHY-20
    75
    14
            8000-12000
   6060×2630×3160
  13000
Not all products are listed . For more , please contact with the sales engineering.
Cement Ball Mill, also known as cement mill, Cement Grinding Mill, is a key equipment to grind raw material and clinker grinding unit in the cement manufacturing line, it can used in the following industry as well, such as chemical industry, power station, slag grinding plant, and so on, the finished fineness can be up to 425mesh, with feeding size less than 25mm. There are mainly two types of grinding method, one is closed-circuit and the other open-circuit grinding process, the rejected size will return to the cement mill for further grinding after processing with a classifier. There is lining plate and grinding ball inside the cement drum, which can guarantee the cement mill use for a long time.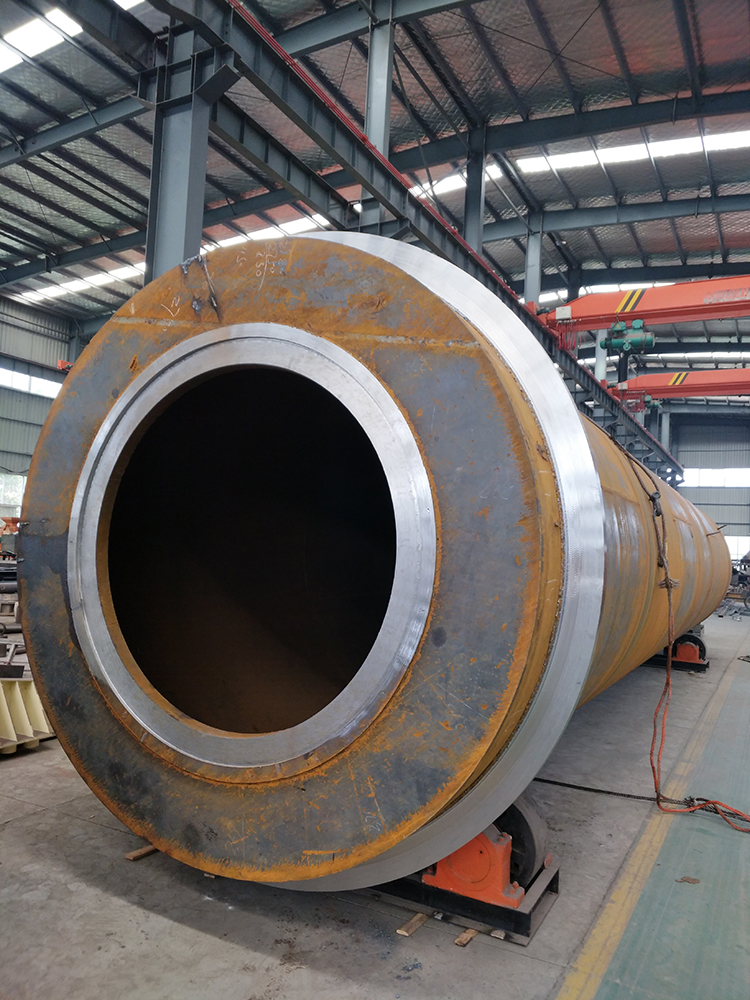 Cement Ball Mill

Cement Ball Mill,Cement Grinding Mill,Cement Grinding Machine,Cement Grinder

Henan Mingyuan Heavy Industrial Machinery Company Co., LTD. , https://www.heavyequipmentchina.com