Reinforced Graphite Composite Gasket Sheet for Jointing>
Model NO.: cs1080T
Pressure: High Pressure Mechanical Seals
Temperature: High Temperature Mechanical Seal
Standard: Standard, Nonstandard
Balance: Balanced
Working Temperature: 500deg
Recovery: >35%
Trademark: ClingSeal
Specification: 500*1000-1500*1500
HS Code: 6815100000
Structure: Single End
Speed: General Speed Mechanical Seal
Performance: High Pressure
Type: CS1080t
Density: 2.1-2.2g/cm3
Compressibility: 10-20%
Thickness: 1.0-3.0mm
Transport Package: Ply-Woode Case
Origin: China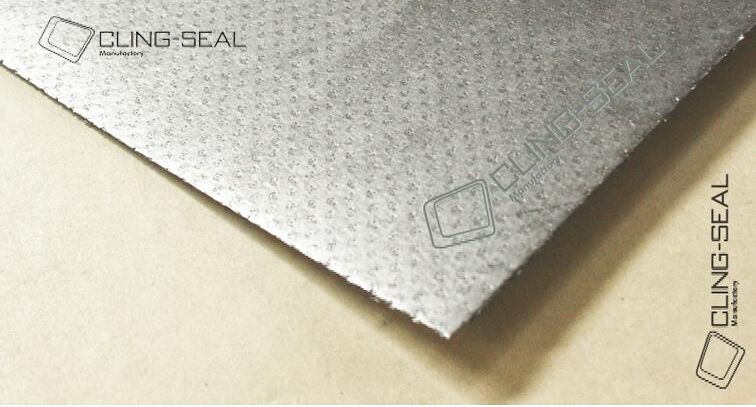 From this page you can purchase graphite gasket sheet from 1.0 to 3mm thickness. Remember that as a general rule you should select the thinnest material possible for your application.

General Properties of Graphite gasket sheet is made from two sides Pure flexible graphite sheet with 0.2-0.25mm perforated metal insert. It generally used in high temperature and high pressure environments, and commonly finds applications in steam cycling or exhaust applications.

 If you can't find what you're looking for, of require a bespoke material, please do not hesitate to contact us.
 Is Graphite the Best Material for My Application? If you are unsure as to which material is best for your application then you can consult our gasket material selector, or our guide to rubbers. 

 Alternatively, we are always happy to offer technical help and advice and so if you require assistance then please do not hesitate to contact us.

Product Formation:
It made from two sides flexible graphite sheet with perforated metal insert. Metal usual be 0.2-0.25mm carbon steel, called tinplate. It also can be ss201, 304,316. Carbon content are 95,97,98,99% for selected.

Product Features:
·Good adaptability and durability, good sealing, no delamination, high yield
·An economical sealing gasket and exhaust, manifold gasket material
·Good oil-resistance.
·Suitable for High temperature and pressure resistance

Product  Application:
It suitable for oil sealing and gasket, cylinder head gasket

Product Size:
Thickness-------1.0-6.0mm Notice: While thicker, it can be 3+2 type(Product section from top to bottom in order are Paper-Metal-Paper-Metal-Paper) and Multi paper bonding technology
Size---500*500mm;500*1000mm;500*1500mm;1000*1000mm;1000*1500mm
Size can be customized by clients.

Physical Property:
Item

Data

Tensile Strength (MPa,min.)

≥30

Compressibility (%,)

10-20

Recovery (%)

≥35

150ºC, At IRM 903# for 5hours

Thickness Increase(%)

≤10

Weight Increase(%)

≤10

21ºC~30ºC, At B Fuel for 5hours

Thickness Increase(%)

≤10

Weight Increase(%)

≤10

Thickness Deviation(mm)

0.05
Product Technical Details

As a general rule, graphite is:

• Good for use with steam

• Good ozone resistance

• Good with natural gas

Customer Service

We are happy to answer any questions that you might have about this product. Please contact us for more information.

Product Shows


About Us

Cling-Seal Manufacturing co.Ltd. is a factory of manufacturing & export various gasket material and exhaust gasket in China. We have been sold our products for 12 years in China market, and 9 years in global market. We have more than 12 years experience in producing deferrent reinforced seal gasket paper.

  Ours main products are non-asbestos reinforced sheet, graphite reinforced sheet, double steel non asbestos (graphite) composite sheet, high quality reinforced perforated metal cylinder head gasket materials, flexible graphite gasket materials, compressed sheet jointing gasket materials, gasket filler materials etc. It is easy to cut gaskets at very cheap prices for a wide range of industries. Inserted metal could be tinplate or stainless steel. Thickness of tinplate is 0.18mm to 0.25mm. Thickness of stainless steel is 0.10mm (SS304,SS316),0.15mm (SS201). 

  All of our products are extensively applied in petroleum, chemical industry, electrical power, metallurgy, automobiles, motorcycle, ship building, food, paper, mining, steel and pharmacy etc. which help user to solve the leak problem, now our products have been sold to Europe, Japan, South Korea, Taiwan, Singapore, South America, Middle-East and Africa etc. many countries and regions.


2LYQB800series We provide 4 series of twin-screw conveying pumps, which can transport all kinds of lubricating or non lubricated medium, high viscosity and low viscosity liquid, and can transport medium with a small amount of fine solid particles in the use of special materials.

Petrochemical Industry: transport all kinds of lubricants, hydraulic oil, crude oil, residue, heavy oil, diesel, gasoline and other products.

Shipbuilding Industry: all kinds of light fuel oil, heavy fuel oil, heavy oil, dirty oil, bilge dirty oil, seawater delivery pump, booster pump and sweeping cabin pump.

Chemical industry: all kinds of acid and alkali salt solution, resin, glycerin, paraffin, all kinds of cosmetics, emulsion media pump, bottling pump, tank bag pump.

Oil and gas industry: transportation of inks, pigments, various kinds of oil and gas and various coatings.

Food industry: transport all kinds of high viscosity thick substances such as oil essence, beverage, honey syrup, toothpaste, milk, soy sauce, animal oil, vegetable oil, chocolate and so on.

Transportation industry: all kinds of oil stations, oil pumps, unloading pumps, oil pumps and tank pumps.




2LYQB800series Twin Screw Pump

Twin Screw Pump,Mixing Double Screw Pump,Screw Pump Triple Screw,Screw Pump Twin Stainless Steel

Tianjin RongHeng Group LLC , https://www.ronghenggrouppump.com